PHILIPS Air Fryer 6.2L 2000W – Black
Air fryer Philips
Key Features
Model Number: HD9270/91
Power: 2000W
Capacity: 6.2 liters / 1.2 kg
Color: black
Rapid Air . Technology
Air Rapid Technology
Fry up to 90% less fat
Automatic shutdown
Digital Display
Temperature control
Rapid Air . Technology
Rapid Air technology works, With its unique "starfish" design, Stirring hot air to prepare delicious foods that are crunchy on the outside and tender on the inside. With little or no oil.
XL for all the family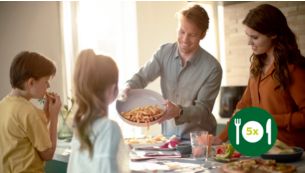 The Philips XL frying pan was designed with your family in mind. The basket with a capacity of 1.2 kg helps you, Together with the 6.2L fryer, To cook a variety of meals. Make up to 5 portions of meals at once for your family and friends.