SAMSUNG
Dryer
9kg A++ – Inox
Samsung dryer
Key Features
Model Number: DV90TA040AE
drying capacity: 9KG
Number of Programs: 14 programs
Color: Inox
Display: LED
Energy Class:A ++
drying type: heat pump
Number of drying temperatures: 3
Energy consumption (annual): 258 kWh
drying time limiter
Filter Check Indicator
Noise Level: 65 dB
Dimensions (height, width, depth): 85 x 60 x 60 cm
Efficient and energy efficient drying with heat pump technology
Our heat pump technology is the way forward to dry your clothes more efficiently. By reheating the air in the aquarium, It gets gentler on even the most delicate of clothes. This means that you will use less electricity than a conventional condenser or vented dryer, Which makes it kinder to your bills and the environment, too.
Intelligent Drying Sensors
You need to dry but don't want to use a lot of energy. Intelligent OptimalDry technology uses humidity and temperature sensors to adjust drying time. In addition to protecting your clothes from damage, It also saves energy.
Reverse Door
Feel free to place your Samsung clothes dryer where you want it in the house, Adjust the door to fit the space. The reversible door allows you to open it to the left or right of the dryer. Then , It becomes easier to load and unload laundry, It also becomes easier if it is placed next to the washing machine.
35 min Quick Drying Cycle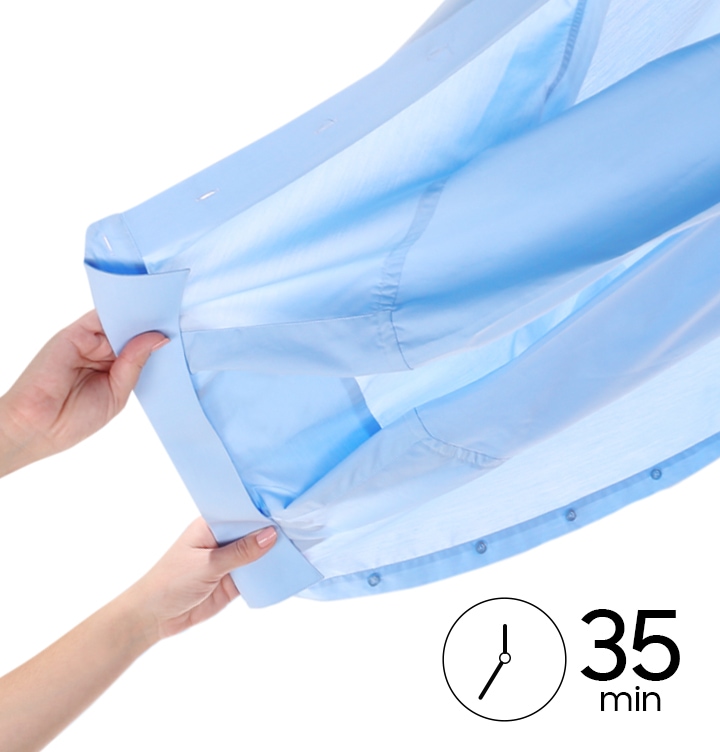 Need your favorite top dry for an impromptu night out? The 35-minute quick drying cycle dries a load of clothes in just over half an hour. It's ideal for loads of up to 1 kg.
2-in-1 Filter Doubles the drying, not the cleaning
Taking care of your appliance will make it last longer and make your wash nice and dry every time. Save your clothes dryer and improve drying performance with the 2-in-1 fluff collecting filter, This means that the heat exchange filter needs cleaning less often. And in case you forget, The easy-to-use clean alarm clock reminds you when you need to do it.
Less Wrinkles, Less Ironing
Lighten the load of ironing with the drying feature that smoothes wrinkles and creases. Once your cycle in the dryer is over, Select the Smart Wrinkle Prevention setting. It will cool the clothes and spin the drum. This means that your dry clothes don't sit for too long in one place to pick up wrinkles. Then just grab your clothes and you'll be good to go.