SAMSUNG Dish Washer 13 Set 5 Programs A+ – Silver
Samsung dishwasher
Key Features
Model NO .:

DW60M5050FS / FH

Number of sets: 13 sets
Number Of Programs: 6 Programs
Energy Class: A+
Color: Silver
Annual energy consumption: 295 kWh / year
Annual Water Consumption: 3,360 liters
Noise Level: 46 dB
Dimensions (W x H x D): 59.8 x 84.5 x 60 cm
Wide LED display for status monitoring
Enjoy a simpler and more intuitive way to clean your dishes with a large and spacious LED display that is easy to read. You can quickly check the status, settings, remaining time and course progress at a glance, Even from a distance. So you can effortlessly monitor and control your washing performance.
Easy height adjustment flexibly fits taller and wider dishes
The flexible interior space is height-adjustable, So that the top shelf can be quickly raised up or down an additional 5 cm with one touch of the trigger. By creating more space in the bottom shelf, You can match different sizes and shapes of dishes, Including tall pots, large plates and oversized plates.
Half load so you can easily save time and energy on a small load
Gone are the days of waiting for the dishwasher to be full. The Half Load setting gives you more flexibility as it allows you to load and clean items only in the lower area. So you can save time and energy by running smaller loads and enjoy the convenience of getting clean dishes at any time.
Hygienic rinsing to eliminate bacteria
Clean option can be activated with certain programs to clean everything hygienically. It extends the final rinsing period and increases the water temperature to 70°C, This enables a deeper clean and kills bacteria and germs. So your dishes, cutlery and cookware are always safe to use.
Save time with 60 minutes wash and dry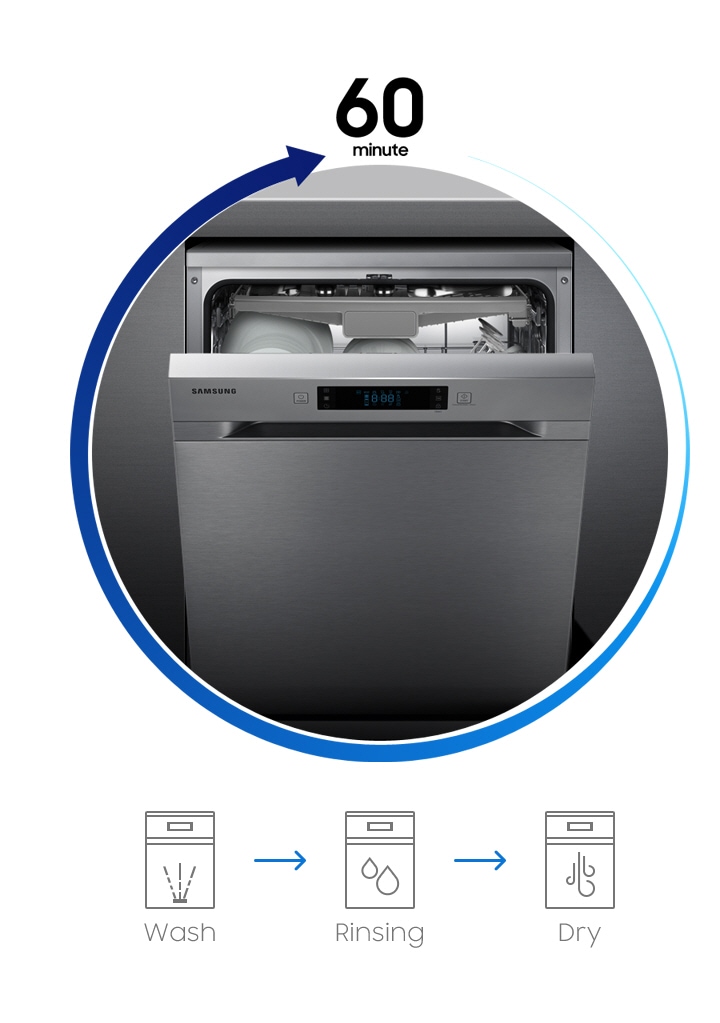 The 60 Minute Express Wash option cleans and dries your dishes faster. It's perfect for small loads of lightly soiled items that don't need a really extensive cleaning, Such as cups, cutlery, dinner plates, It will undergo a complete wash and dry cycle in just 60 minutes.